The coming war against Iran - Part 15
It is a war that seemed to be inevitable from the start. Nobody wants it, except a few. History will show if these few will get what they are aiming for.
Economy Iran is in a bad shape - will ration gasoline
When one thinks of Iran one thinks of a land floating on a sea of oil; scarcity and energy shortages are just about the last terms that come to mind. Yet upon further investigation into Iran's economic situation, these are words that figure prominently. According to an analysis by the National Academy of Sciences, Iran's oil revenue ($50 billion annually) could be cut in half within five years and be completely dried up by 2015. '[The] country could be destabilized by declining oil exports, hostility to foreign investment to develop new oil resources and poor state planning', according to the Academy. 'Roger Stern, an economic geographer at Johns Hopkins University, said in the report and in an interview: '[There] could be merit to Iran's assertion that it needs nuclear power for civilian purposes "as badly as it claims." He said oil production is declining and both gas and oil are being sold domestically at highly subsidized rates. At the same time, Iran is neglecting to reinvest in its oil production.' The LA Times writes : '[...] Iran's aging oil fields [...] have never fully recovered from damage inflicted during the Iran-Iraq war of the 1980s'. Stern sees 'a picture of an industry in collapse'.
It's not only oil production that finds itself in such bad shape - the production of gasoline is also in a terrible state. The country has hardly any refineries that can produce fuel; beginning with the start of the Iranian new year, March 21st, gasoline is going to be rationed so as to cut down on gasoline imports. Not only is 40% of Iran's total gasoline usage made up of imports -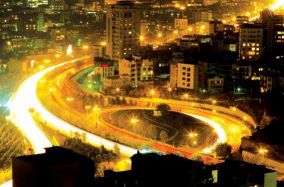 60% [PDF] of which comes from the Swiss firm Vitol, headquartered in Rotterdam - but at the same time it's so heavily subsidized that a liter costs only $.09 cents. These and other subsidies have a total worth of about 16% [PDF] of GDP, 'or the cost of providing 8.7 million Iranians a job at a monthly wage of $150 [...]', writes [PDF] Atta Tarki of the Swedish thinktank Captus. '"And the nub of the problem is that if you were to cut the subsidies, I think there would be riots in the streets"', says 'Hossein Askari, professor of international business at George Washington University.' The LA Times writes that 'the country has one of the most extensive residential heating infrastructures in the world, with homes in the most remote villages warmed toastily with cheap natural gas.' While Iran is anxious to attract investors and developers of oil and gas fields, the U.S. is stepping up the pressure on these companies. In an article about the consequences of that pressure, Kim Murphy of the L.A. Times describes how banks and oil companies are turning away from Iran en masse. A result of this is that the country is not in adequate shape to utilize its own natural resources, and because of this is even more inclined to seek out alternatives. Like nuclear energy.

In a clear and incisive article, the former assistant professor from the University of Oslo Dr. Abbas Bakhtiar explains things are not looking good for Iran: 'As inflation is rapidly approaching critical levels, economists and politicians have began to sound the alarms. There are now open calls for impeachment of several government ministers and although not openly mentioned, the moderates and some conservatives would like nothing more than impeaching the president himself.' In his testimony before the Senate committee, Brzezinksi called Iran 'politically divided, economically and militarily weak'. He was asked by Senator Biden, chairman of the committee, to elaborate on this point. Senator Biden [1.55'30"]: 'The question is, if that is true, and I think we overlook how politically divided it [Iran] is, and overlook the economically difficulty it is in... We seem to be building it up like it is twenty feet tall, and that it is the new superpower in the region. [...] Give your assesment of the present threat that Iran poses in the region [...].' To which Brzezinski answered [1.58'] that Iran has a one-dimensional economy that's not doing very well and is also still isolated. He called the mullahs Iran's past and not Iran's future. He feels that the goverment is not very popular among younger people (which make up the largest contingent of the population).
DeepJournal
Sign up
for the free mailing list.
Why is Syria under attack? - Part 4
'Syria' is about power, money, influence and energy
Why is Syria under attack? - 3
Syria and Iran are like pieces on a geopolitical chessboard
Why is Syria under attack? - Part 2
On the interests of the parties involved in the Syrian conflict and the role of the media
Why is Syria under attack? - Part 1
Who is behind the chemical weapons attack in Syria?
Albert Spits: Creëer je eigen financiële veiligheid
Beluister het interview
Belangenverstrengelingen ook bij Mexicaanse griepprik