DeepJournalTV interviewt WijVertrouwenStemcomputersNiet.nl
Moratorium stemcomputers, zegt Rop Gonggrijp in interview met DeepJounal
Bekijk het interview
Rop Gonggrijp van WijVertrouwenStemcomputersNiet.nl wil een moratorium op het gebruik van stemcomputers, zo zegt hij in een interview met DeepJournalTV. Hij legt uit dat als het om gelijkaardige computerproblemen op Schiphol zou gaan, de luchthaven dicht zou gaan en alternatief vervoer zou worden ingezet, maar in het geval van het belangrijkste machtsmiddel van de burger zouden we bereid zijn tot discutabel handelen?

DeepJournal schrijft al sinds de Amerikaanse verkiezingen in 2000 over problemen rondom het stemproces en
schrijft
ook al jaren over de niet-aflatende problemen met het gebruik van stemcomputers en de aanwijzingen dat zij in de VS zijn ingezet om fraude te bewerkstelligen. Dankzij WijVertrouwenStemcomputersNiet staat het onderwerp bovenaan de agenda.
Interview: Daan de Wit (
DeepJournalTV
)
Camera: Ruben Heere (
BlammoTV
)
Montage: Boris van de Ven (
BlammoTV
)
Logo: Hans Zijffers (
Craftwerk
)
Bekijk het interview met Rop Gonggrijp (of
download
(50Mb) het voor betere beeldkwaliteit).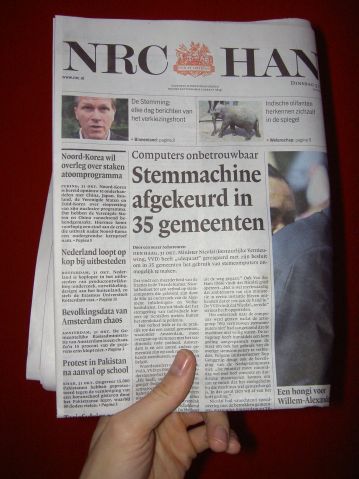 NRC Handelsblad, 31 oktober 2006.
DeepJournal
Sign up
for the free mailing list.
Why is Syria under attack? - Part 4
'Syria' is about power, money, influence and energy
Why is Syria under attack? - 3
Syria and Iran are like pieces on a geopolitical chessboard
Why is Syria under attack? - Part 2
On the interests of the parties involved in the Syrian conflict and the role of the media
Why is Syria under attack? - Part 1
Who is behind the chemical weapons attack in Syria?
Albert Spits: Creëer je eigen financiële veiligheid
Beluister het interview
Belangenverstrengelingen ook bij Mexicaanse griepprik